Urbanworks Featured in "50 Designers, 50 Ideas, 50 Wards" Exhibit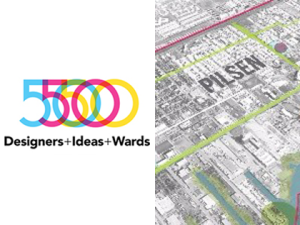 UrbanWorks is featured 50 Designers, 50 Ideas, 50 Wards exhibit at the Chicago Architecture Foundation (CAF). 50 architects and designers were invited to submit transformative design proposals. The exhibit, curated by URBANLAB and Reed Kroloff, focuses on innovative ways to improve the quality of life of Chicago residents over the next 50 years. UrbanWorks proposed a speculation for the 25th ward, which includes Chicago's Pilsen neighborhood. The plan envisions lasting change by reinvigorating its manufacturing community and enhancing its residential and educational community.
The exhibit is now open and located in the CAF's Atrium Gallery at 224 S. Michigan Avenue.