UrbanWorks Welcomes Summer Interns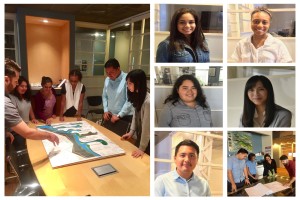 CPS CTE Intern Elynn Jensen, One Summer Chicago/Vamos Intern Oscar Hernandez, College Intern Corinth Jackson and High School Interns Alexis Roldan and Gabriella Finch were introduced to the field of architecture. The UrbanWorks Summer Interns attended meetings, visited projects under construction, and assisted with project drawings and material selections.
UrbanWorks participated as Mentor Sponsors for Mayor Rahm Emanuel's One Summer Chicago program, which "brings together government institutions, community-based organizations and companies to offer over employment and internship opportunities to youth and young adults ages 14 to 24" and Host Firm for the Chicago Public Schools Career and Technical Education (CTE) College Prep Program which gives " hands-on training and real world experience through internships".
(Top Row: Gabriella Finch, Corinth Jackson Middle Row: Alexis Roldan, Elynn Jensen Bottom Row: Oscar Hernandez)